Q. "I have something specific in mind, could you make it for me?"
A. Thank you for your interest in a custom order. Unfortunately at this time I am not able to fulfill "custom orders". The exception to this is if you have seen a previously made item on Facebook, Instagram or the website that you would like me to replicate. These "made to order" pieces take approximately 6-8 weeks, perhaps longer during busy season. Please inquire if you have a "made to order" request. From there I will set up a listing for your request on Etsy, in which payment will be due. I will contact you as soon as your order is ready.
If your "made to order" request is larger than $200, I will make an initial listing for the deposit of the order (50%), and when your order is finished I will create another listing for the remainder and any shipping charges if applicable. Please contact me if you have any further questions regarding "made to order" purchases.
Ingonish Trading Co
www.ingonishtradingco.ca
192 Davis St. Sarnia, Ontario
Lake Life Studio www.lakelifestudio.com 3811 Lakeshore Road, Camalachie, ONMADE Collective
pop up shops throughout the year (see
www.madecollective.ca
for details.
This year you will be able to find me at the following Art Festivals:
Sarnia ArtWalk, Christina St, June 2-3 2018 www.sarniaartwalk.com
Art in the Park Petrolia July 13-14, Victoria Park, Petrolia, July 13-14, 2018 www.artintheparkpetrolia.ca
Art in the Park Sarnia , Mike Weir Park, Brights Grove, September 8, 2018 www.artintheparksarnia.com
THe Big Brothers, Big Sisters of Sarnia Lambton Show and Sale, November 2018
Q. "I live in the area and would like to avoid shipping costs, how do I go about that?"
A. If you would like to pick up your order, you may use coupon code "LOCAL" at checkout. Pick up times will be arranged after purchase, but usually are available weekdays after 4pm or Saturdays between 9-12am.
Q. "My mug (bowl, plate, etc.) broke, what do I do?"
A. Unfortunately, very occasionally

, because of the hand made nature of pottery, a piece may break. I know hand made pottery is not cheap and I definitely want you to love you piece for a very long time. Please contact me, and I will either give you a replacement or a credit for another purchase. If the cause was the pot owner, I'm still happy to give a discount on a replacement piece. As I said, I want you to enjoy your piece for a long time... and accidents sure do happen!
Powered by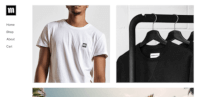 Create your own unique website with customizable templates.